Huichol Peyote Ceremony Expedition
August 17th through August 24th, 2014
Real De Catorce - Mexico
*Limited to 11 Participants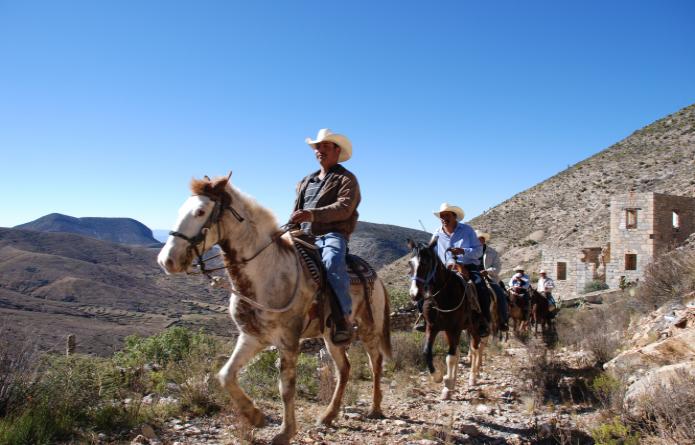 $895 - Includes:
Lodging in a private guest house that will have only our group staying there (Villas Alcazaba)
Ground transportation in Mexico (we will have our own minibus- not a livery)
Daily breakfasts
Welcome and farewell dinner
Two private peyote ceremonies with a Huichol Shaman - One ceremony in our local host's private residence and one in the desert (weather permitting).
A guided Temezcal (sweat lodge ceremony) before we leave to cleanse and integrate our expedition's experiences.
Private guided tours from our local host to various points of interest on the sacred mountain of the Huichol and in Real De Catorce
Pre- and post-expedition workshops (online)
International airfare not included
Join us for a week long expedition to the sacred mountain of the Huichol Indians. We are going on an expedition to visit with the Huichol and to explore the possibility of adding this journey as an official Pilgrimage as part of our "Entheogens: Awakening The Divine Within" workshop series and pilgrimages.
Since this is not yet an official pilgrimage, we are going in with a local guide and expert who has arranged two ceremonies for us with a Huichol shaman and will educate us on beforehand on ceremonial requirements, the quality and nature of peyote, and much much more. Our local guide, Rodolfo De Matteis, is familiar with The Audacious Spirit as he is currently a Next Level Program student who happens to live and work in Real De Catorce, Mexico.
Huichol spirituality is based on working with the plant spirit Peyote. Their cosmology and understanding of the universe has been totally influenced from the use of this sacred plant. Many are familiar with the writings of Carlos Castaneda who fired up generations of interest in the mystical path mainly because of his and his character's use of peyote.
We will hold three workshops before leaving on the expedition.
Workshop 1: (Friday June 13th 8:30pm ET- FREE) - The Huichol and Peyote - We will talk about the history of the Huichol and their ancient and current practices. We will also learn about how peyote is administered and understood both by the Huichol and scientifically. ENROLL NOW
Workshop 2: (Friday July 11th 8:30pm - FREE) Plant Spirit Medicine and the Spirit of Peyote - The greatest healers of mankind aren't human -- - they're plants. We will play with a way to get into communication with plants, especially the plant spirit peyote. ENROLL NOW
Workshop 3: (Friday August 8th 8:30pm - FREE) Goals and intentions. We will set the energy for our expedition and explore what we want to personally achieve. A guided meditation will help us focus on what is alive in our inner world and ready to become a goal for this expedition. ENROLL NOW
Rodolfo de Matteis was born in Italy in 1957. Since boyhood his life has been characterized by extraordinary experiences; that, along with his everlasting intention to persevere, has shaped his mission in this world.
Rodolfo has been meditating and writing poetry since he was 13 years old. When he was 20 he left his study of anthropology at the University of Rome La Sapienza to dedicate himself to autology (the path of self-knowledge). He moved to India where he lived for 13 years. During his time in India he chose the sadhu path of a yogi and made several pilgrimages to holy places in the Himalayas and the Thar Desert. He also spent several years in Goa as the "baba in charge" of The Holy Banyan Tree (The tree where Gautama the Buddha gained enlightenment). It was also there that he became active in the creation of Naturist communities while he continued to build his yoga and Shin Tai Do practice. After returning to Italy, he became a teacher of Tantric Yoga in the cities of L'Aquila, Alghero and Pescara.
Rodolfo has been living in Mexico for the past 15 years and maintains contact with spirits and shamans. He became a certified healer with David Elliott and is currently expanding his spiritual abilities as a clairvoyant and healer with The Audacious Spirit. Rodolfo teaches workshops on the development of creativity, and continues to hold yoga, meditation classes, and healing circles in Italy, Mexico, Guatemala and online. Rodolfo's healings are available both online and in person.
web pages -> www.respirarluz.net & www.multireal.org
Rodolfo is also a published writer and poet. His Italian works include the collection of tales, VISIONOIR, and a book of poems, OVERDOSE d'ARANCIATA. His Mexican works include the book NACÍ EN TENOCHTITLAN, OTRA VEZ; in addition to various novellas. His last novel, ASSURBAN, is pending publication in Italy. ASSURBAN chronicles his time in India in the 1980s. He is currently working to complete a sci-fi novel BLACK RAINBOW. Rodolfo is also an internationally known performer and creates several performance or "Action Art" installations. He also makes videos and radio shows all of which are documented in his webpage: www.teatromagico.us